Adults – This one's for you! Every Friday from 6-8pm Em's Art Shack is now offering ClayDates & ClayMates! This 2 hour session is a chance for you to experience throwing pottery on the wheel. During the first half hour Emily will do a wheel demonstration, then it's YOUR TURN! We will create at least one piece together, which Emily will finish for you to pick up about 2 weeks later. If Friday doesn't work for your schedule, email Emily for other options!
* Minimum 2 people to run this class.
SIGN UP by clicking on the dates below:
May 12th
June 9th
July 14th
July 28th
August 11th
September 29th
October 27th
November 17th
December 15th
What you need to know before your night out…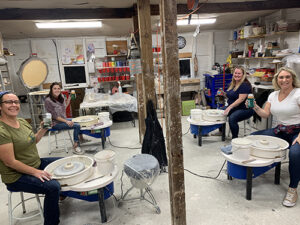 Long hair should be tied back and long fingernails make throwing pottery challenging.
You are welcome to pick up dinner on the way to enjoy during my wheel demo. We have a host of local restaurants that offer takeout, each open as early as 4pm to order.
Argyle Brewing
Elsasser's @111
Wallie's